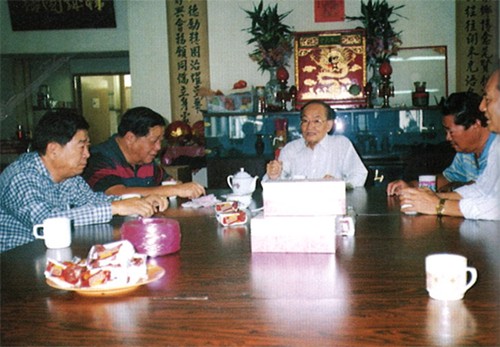 The Migration of "koh leng" folks to Singapore
The British's establishment of Singapore as a trading post in 1819 and their subsequent economic development of Singapore and Malaya resulted in increased economic activities and high demand for manual labor. This was a great opportunity for Chinese living in the chaotic world of Qing China to look opportunities here.

Many Chinese went overseas in search of work to support their families back in Kinmen. A popular destination was Nanyang or South East Asia of today. Among these migrants were folks from Koh Leng Tao (古甯头), Kinmen, an island between Fujian in China and Taiwan.

The people of Koh Leng was generally believed to have arrived in Singapore as early as 1850, a few decades after Raffles' arrival.

As fellow migrants separated from their families in China, the people from Koh Leng, like other Chinese dialect groups, formed a closely knitted community to offer mutual support. This informal network and organization was later formalised as Koh Leng Clan Association.

Singapore's status as the regional hub meant that the Koh Leng migrant's informal support group has dual functions. On one hand, we look after each other and offer mutual support. On the other hand, we look after new 'Koh Leng' migrants who transited in Singapore to other parts of Nanyang, especially Malaya and also Indonesia.

The new migrants often stayed at homes of local 'Koh Leng' families in Singapore while waiting for paperwork to be completed or while waiting for news of their new jobs in Malaya.

Contacts of this nature planted the seeds for a future regional network of Koh Leng community here in Singapore.

This system of self-help served the social needs of migrants during the colonial system and in an era with no advanced communication technologies for migrants to connect with family members back home in China or with each other.
Founding of the Clan Association
When Koh Leng Association was initially founded, it was located at 43, Hokkien Street in Singapore Chinatown. This was the hub where Chinese lived and where new-comers arrived to look for their fellow clansmen.

After the end of World War II, the Koh Leng community in Singapore decided to formalise our organization by registering as a clan association. The movement was spearheaded by 李忠信, a young man of only 25 years old and supported by his group of friends and relatives.

The application was made in 1950 and approved in 1951. Mr. Lee became the head of the clan association and served for the next 60 years, making him the longest serving president in the history of clan organization in Singapore.

Singapore was going through rapid urbanization and many places in Chinatown were being redeveloped. The committee members decided to acquire a permanent place to operate from. A committee was formed in 1974 to search for a suitable location.

Five years later, a place was finally found and they began negotiation with the developer. An agreement was signed and so kick-started the beginning of their fund-raising campaign.

Support for this initiative came not only from our members in Singapore but from the region as well. Many who once transited in Singapore and who were looked after by their clansmen in Singapore came forward to support the fund-raising project.

After much travelling and much hard work, the fund-raising was a success and the new premises was finally acquired.

On 13 June 1985, members of Koh Leng Association gathered at our new premises to celebrate the establishment of a new, fully-owned home.

The surplus from the fund-raising was used to set up a scholarship fund to support and encourage the education of the younger generations, the future leaders of the association.